I'll start today off with a yummy recipe for a family favorite. The thing I love about lettuce wraps, is that you you get a healthy dinner that pleases everyone...what could be better. You could skip the whole messy bit of wrapping the chicken stuff in a leaf of lettuce and serve it as a salad if you would like....but then again, that's the fun of it all. No,it is not the much coveted recipe for P.F. Chang's Lettuce Wraps, you will just have to settle for the S. Voortmeyer version. I pack it with a bunch more vegetables...and the kids don't care, so you know it's a winner. I serve it with plum sauce on the side, no I don't make it from scratch...you can easily find plum sauce at any grocery store in the Asian section.
Chicken Lettuce Wraps

1 pound boneless skinless chicken breasts, diced
1 tablespoon vegetable oil
1 Tablespoon sesame oil
1 cup chopped fresh mushrooms
1 can (8 ounces) water chestnuts, drained and diced
1 Tablespoon minced fresh ginger
2 Tablespoons rice vinegar
3 Tablespoons oyster sauce
1 Tablespoon reduced-sodium soy sauce
1 teaspoon chili garlic sauce/paste
2 cups broccoli slaw (carrots,broccoli,cabbage-bought in bags found by bagged salads)
2 cups cabbage slaw (variety cabbage, shredded-bought in bags found by bagged salads)
2 cups bean sprouts
1/2 cup green onions, chopped
1 head iceberg lettuce, separated,washed, dried and refrigerated until crisp
1/2 cup toasted peanuts, chopped
1/2 cup cilantro, chopped
In a large skillet, cook chicken in a mixture of the two oils for about five minutes. Remove immediately from skillet and set aside. In the same pan, add the mushrooms, water
chestnuts, chili garlic sauce, and ginger and cook on high heat for three minutes. Next, add the slaws and sprouts and cook for another three minutes. Make a well in the center of the pan and add the vinegar, oyster sauce, and soy sauce. Bring to a bubble and then toss together with the vegetables. Add the chicken back into the mix and cook until hot.
Season with salt and pepper, careful on the salt, the soy sauce and oyster sauce are plenty salty on their own. Serve the mixture with cold lettuce wraps and top with the cilantro and peanuts. My family likes to top with plum sauce.
Cutie
Louanne
, is one of my favorite blogs to visit, to find sensible and delicious recipes. I am amazed that every time I visit her site, that I want to eat what is on the screen. I know if we lived closer, that we would be having very fattening dinner parties. So I was pleasantly pleased to find a sweet award waiting for me at her fabulous blog: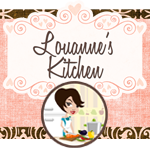 She has gifted me with the:

So, here is the idea behind the One Lovely Blog award:

1. Accept the award and post it on your blog together with the name of the person who has granted the award and his or her blog link.

2. Pass the award to 15 other blogs that you love.

3. Remember to contact the bloggers to let them know they have been chosen for this award.

So besides the great blogs and sites that I have listed over there to the right of your screen, Here are fifteen of the sites I frequent often. So to the following bloggers below, I bestow upon you...the coveted One Lovely Blog Award...ta da!

The Sweet Life Bonnie, dishes up a lot of Tex Mex cuisine...I love Tex Mex, and her sweet antidotes about where the recipes come from. She is also a very supportive Blogger friend.

The Crafting Chicks This site is hosted by a flock of chicks, that share fun foods and crafty ideas. Whether you are an advanced crafter or remedial (like myself) there are tons of great ideas here.

IS*LY( I Still Love you Miss Melissa Esplin, is one talented gal. as a young mother and wife, I am amazed at her cool crafts and thrifty ways. Visit her site to be amazed at how she takes thrift shop finds and re tools them into fabulous styles.

The Survival Mamma Randayle is all about power...power of the woman as well as using power...lol....as a writer, Randayle weaves humor into her sensible posts.

Yummy Lolly Sharnee, is one of my favorite blog designers. I love her retro style and she shares it all with us. Besides her free templates, she offers very inexpensive designs to purchase.

Anne Strawberry is a cute young mother with a bright little site. Stuffed with all of her fun and beautiful recipes.

We Are Not Martha two childhood girlfriends, who whip up great recipes (and honing their Martha skills) as well as sharing their favorite things. Check out their recent post about Butter Ball University.

Neo Homesteading Cat's site is nothing short of awesome. This cool mom turns out so many recipes that are truly inspired. Much like myself, she cooks the "old school" ways and doesn't apologize for it.
White Hot Oven Delicious, inventive, recipes...need I say more? This site is Chuck full of recipes and her culinary adventures. Check out her Pork and Bean Bread...yes,i said Pork and Bean Bread.
A Beautiful Mess Alicia, is an "every woman", sharing the joys and stresses of her life. This site is painted with lovely photos of journey. Alicia, hosts Tasty Tuesdays..one of my favorite haunts.

Brenda's Canadian Kitchen This canuck treats us to family style recipes that I lick my chops at. I am planning on making her most recent post for Apple Cake this weekend for sure,
Get Off Your Butt and Bake Jonna makes heartwarming simple delights...her pictures are beautiful and I have to say I am a bit envious that her house is always clean.
The Constant Hunger hey now I know why I like this blog...'cause I am always hungry as well! Her site doesn't help matters either...its full of her kitchen adventures and they always look yummy.
Bottomless Kitchen This young couple prepares dishes together. They have an uncomplicated approach to food and try and stretch the dime as well.

You Fed A baby Chili? As you know I have always had a love of Asian style food and I love to infuse it in my Rocky Mountain Cuisine...so, of course I naturally love this blog. Love it even more because this blog is hosted by a cooking scientist daddy.
Wow! That was a lot of work. But all of these fun sites deserve it. Its fun to be part of a cyber world so full of talent!
Finally, I always love to participate in Tasty Tuesdays over at A Beautiful Mess...so get on over there and check it out!


If you want to join in...feel free