Last week, I was very excited to announce a great give away offered by
CSN
stores to one of my readers. The offer was a $40.00 gift card to be spent on
Le Creuset
.
Le Creuset
is just one of the many many (an I mean thousands and so much more)super great products
CSN
offers. I was so happy to have so many people participate. It was fun to visit all of your sites and get to know you better. I hope to bring another fabulous give away soon. I can't wait to see who the lucky devil is, so without further adeiu......Vanna...please roll out the Random Number Generator please.......
Number 21! Who would that be.........
LOUANNE! from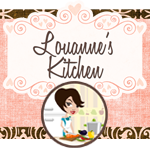 Louanne said...
On my blogroll - 2nd entry!
August 19, 2010 4:48 AM
I wish you all could have won....but if you feel like skipping over there to congratulate her...you should because she has a cute little site. In the meantime, check out the recipe below, because it's just plain yummy.
Louanne, shoot me an email and let me know where to send the card. Congrats!
I used the Random Number Generator to get the winner, but I can't seem to figure out how to save the number it came up with so I can post it....do any of you geniuses know how?